CLUSA presents its fifth and final online student training webinar in a series of five.
About this Event
Are you interested in government internships or careers? Join us for a webinar on local, state, and federal opportunities! Civic Leadership USA presents its last webinar this year, focusing on ways the next generation can put their skills to use: "Careers in Government" will take place on Saturday, October 10 from 10:00 AM – 11:45 AM Pacific time. You'll hear about how you can contribute to your community from all kinds of offices. This webinar will also feature the Federal Asian Pacific American Council (FAPAC) who will be providing a guide to jobs in the government! Complete four of five 90-minute webinars while collaborating with fellow passionate young leaders ranging from middle school students to graduate students to earn badges, with a certificate waiting for you at the end.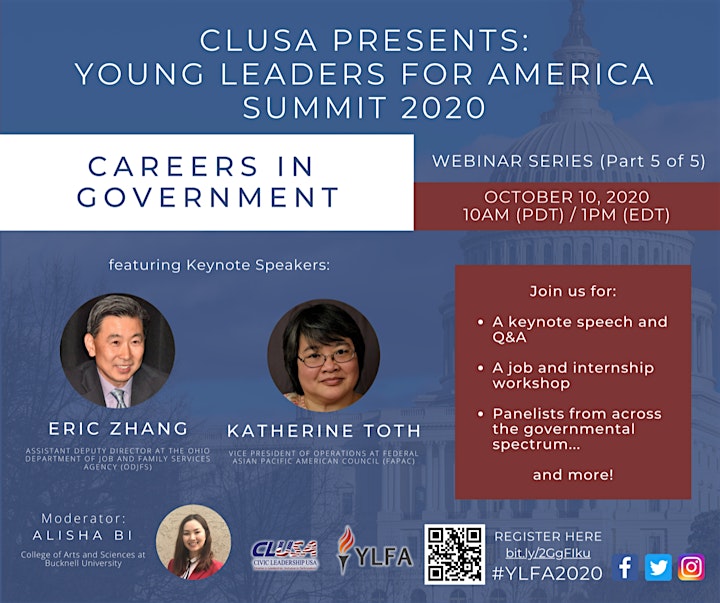 Our webinar will bring a host of experienced speakers and panelists, providing exclusive insights and advice, as well as a live Q&A session with the audience!
Keynote Speaker: Eric Zhang
Special Presentation: FAPAC by Katherine Toth
Moderators: Alisha Bi, Dylan Lee, Vincent Huang
Panelists: More speakers are coming soon!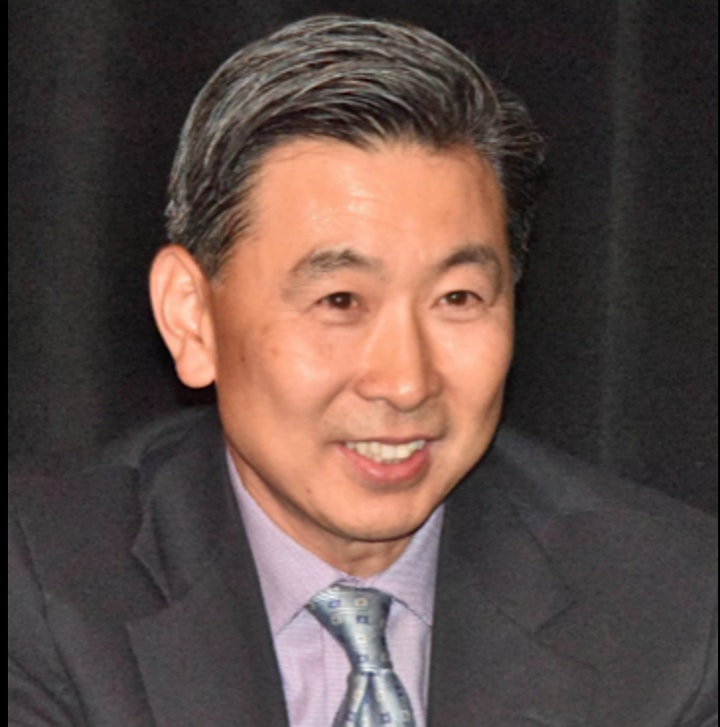 Eric Zhang is currently serving as an assistant deputy director at Ohio Department of Job and Family Services Agency (ODJFS). Eric came to The United States in 1991 as a F1 student at Marshall University. For the next 25 years after his graduation, Eric started as a Desktop Publishing Designer and Corporate Financial Analyst at Champion Industries, Credit Analyst at Bank One, Sir. Financial Analyst at Applied Card System of Cross Country Bank, Internal Audit Manager at Adelphia Communications, Risk Advisory Service Manager and Data Analytic Champion at Ernst & Young, then joined State of Ohio at Department of Budget and Management Agency, and now at Department of Job and Family Services Agency.
Prior to Eric's career in U.S., he already had seven (7) years of career experiences in China as an Air Traffic Controller, Flight Operation Procedure Designer, Civil Aviation Flight Information Instructor at China Civil Aviation Administration (CAAC), then Regional International Labor Relationship Manager of Foreign Enterprise Service Corporation Beijing (FESCO).
Eric Zhang is also an awarded adjunct instructor at Franklin University since 2009. He teaches Accounting, financial analysis modeling and Data Analytic related subjects.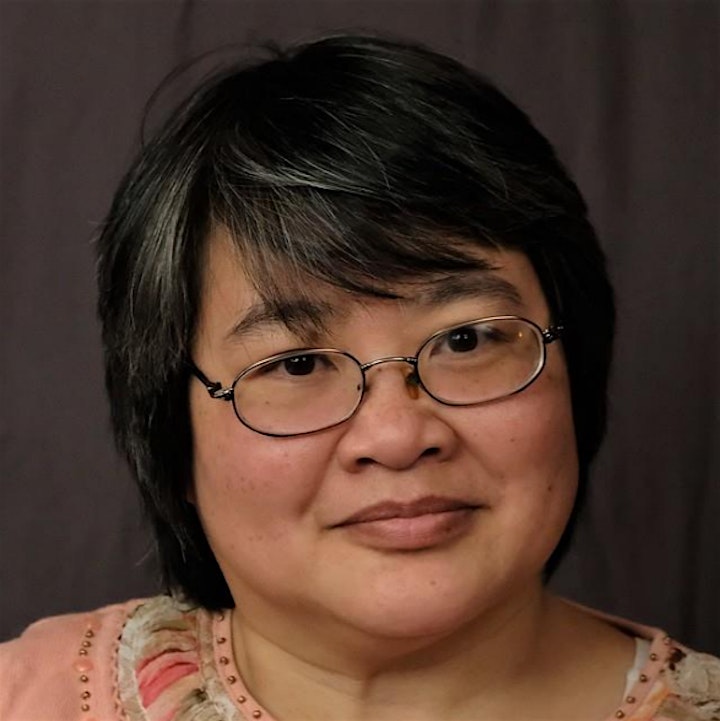 Katherine Toth,Vice President of operations,FAPAC
FAPAC is an organization that promotes equal opportunity and cultural diversity for APAs within the Federal and District of Columbia governments. FAPAC encourages the participation and advancement of APAs in the Government workforce.
FAPAC is organized exclusively for educational purposes within the meaning of Section 501 (c) (3) of the Internal Revenue Code. The primary purpose of FAPAC is to serve as an interagency association within the Federal and District of Columbia Governments, providing a focus for over thirty ethnically distinct groups originating from Asian and Pacific regions as recognized by the United States Bureau of the Census.
Our webinar will feature Katherine Toth, who will provide a presentation on how to look for and apply to jobs in the public sector. You can learn about them here at this link: https://fapac.org/
Webinar Series Schedule:
1. June 13th, 1 to 2:30 pm PDT: Public Service Internships 101
2. July 11th, 1 to 2:30 pm PDT: Young Leaders Speak Up! – Policy Advocacy
3. August 8th, 1-2:30 pm PDT: How to Become Civic Leaders with a Minority Ethnic Background
4. Sept. 12th, 1-2:30 pm PDT: Mobilizing the Community – A Merged Webinar with the 2020 National Leadership Civic Forum
5. Oct 10th, 10:00 -11:45 am PDT: Career in Government
Remember, this is the fifth and also the last one of our five webinars, each with their own specific topic and particular speakers are chosen from their expertise in that field. Come to our webinars and earn a Badge at each one. Collect four of the five badges and receive a Certificate recognizing your completion. Be sure to invite your friends and family!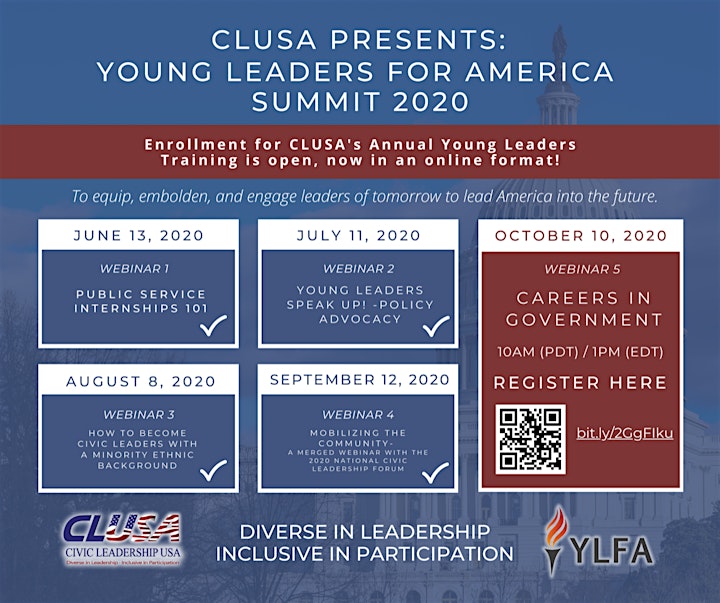 Civic Leadership USA (CLUSA) is a non-profit organization 501(c)(3) incorporated in Washington DC since 2013. CLUSA was founded by Mr. Sandy Chau, chairman of the board, and represents his vision and hopes of Asian and Pacific Islanders being involved in civic leadership.
Headquartered in San Mateo, California, our main objectives are to empower and organize the Asian and Pacific Islander American (APIA) communities to create a national network of civic-minded organizations and leaders. This network of leaders will work in unity to facilitate a much more involved and engaged community.
The principal activity of CLUSA is to sponsor civic leadership forums and public service internship programs across the nation. Aside from helping the Asian and Pacific Islander communities, we are all-inclusive and welcome people of all races and cultures to join us in our mission.
To support public service/government internship programs, CLUSA hosts an annual national internship training conference to train and connect civically minded students nationwide. Due to the COVID-19 pandemic, this year we have moved our national student summit online and welcome you to join our "Young Leaders for America: Summit 2020"!
Young Leaders for America (YLFA) is a cohort of civically engaged students and intern alumni from CLUSA and its grantee organizations that is dedicated to fostering young AAPI leaders and supporting them in their future ventures as civically involved individuals. Through monthly webinars, we collaborate with CLUSA to spark more involvement within the AAPI communities, especially our young leaders pioneering this movement. Our group has three main goals: Equip, Embolden, and Engage.
If you'd like to know more, don't hesitate to reach out. Please feel free to ask questions and engage with others within this community. We're here to help!
Training Partners:
Young American Policy Advocates (YAPA)
Young Leaders for America (YLFA)
Federal Asian Pacific American Council (FAPAC)
Asian Pacific Islander American Public Affairs (APAPA)
Organizations collaborating with CLUSA in Public Service Internship Program:
Asian American Civic Scholars of St. Louis
Asian Americans for Community Involvement (AACI)
Asian American Pacific Islander Coalition of Alaska
Asian American Unity Coalition (AAUC)
ACA San Diego
Asian Pacific Islander American Public Affairs (APAPA)
Asian Pacific American Leadership Institute (APALI)
API LEAD
Citizens for Better Community (CBC)
Chinese Friendship Association of Portland
Federal Asian Pacific American Council (FAPAC)
Florida Educational Alliance Inc
Hanlin Educational Foundation of America
Korean American Coalition National (KAC)
Muslim Educational Trust
National Federation of Indian American Associations (NFIA)
National Federation of Filipino American Associations (NaFFAA)
OCA Greater Houston
Tampa Chinese Presbyterian Church
United Chinese Americans (UCA)
WA Chinese Community Coalition
Media Partner: Ding Ding TV